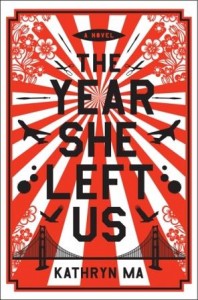 "The Kong women are in crisis. A disastrous trip to visit her "home" orphanage in China has plunged eighteen-year-old Ari into a self-destructive spiral. Her adoptive mother, Charlie, a lawyer with a great heart, is desperate to keep her daughter safe. Meanwhile, Charlie must endure the prickly scrutiny of her beautiful, Bryn Mawr–educated mother, Gran—who, as the daughter of a cultured Chinese doctor, came to America to survive Mao's Revolution—and her sister, Les, a brilliant judge with a penchant for ruling over everyone's lives.
As they cope with Ari's journey of discovery and its aftermath, the Kong women will come face-to-face with the truths of their lives—four powerful, intertwining stories of accomplishment, tenacity, secrets, loneliness, and love. Beautifully illuminating the bonds of family and blood, The Year She Left Us explores the promise and pain of adoption, the price of assimilation and achievement, the debt we owe to others, and what we owe to ourselves. Full of pathos and humor, featuring a quartet of unforgettable characters, it marks the debut of an important new voice in American fiction."
I was really looking forward to this book because I have enjoyed stories about Chinese culture, history and the role of women within all of that in other novels. The author clearly had an understanding of Chinese women with how vivid her descriptions of them were. International adoption was also fascinating to me and the stereotypes of well to do Americans adopting Chinese girls was explored as well in this story and seemed like something the author knew well.
Because this was about three very different women and three very different perspectives, it helped that every chapter had a different voice. Sometimes that can get confusing or redundant but in this case, it helped flesh out the characters a bit more. and Ma did it quite well. Gran, yet quite a stinker, was a character I liked the best. Charlie was a bit wishy-washy but overall she was what she was. Ari was the one you were supposed to feel for. Unfortunately, my opinion overall was the book lacked depth. The author obviously was knowledgeable about international adoption and what it is like to be Chinese living in an American culture.
I hoped for more. I hoped to enjoy it more. Overall, it was written with an obvious understanding for these characters. I just wished for a bit more depth.
See the stops below for more opinions, which is what reading is all about!
For other opinions...
Tuesday, May 13th: Books in the City
Thursday, May 22nd: A Bookish Way of Life
Tuesday, May 27th: River City Reading
Wednesday, May 28th: A Patchwork of Books
Monday, June 2nd: Drey's Library
Tuesday, June 3rd: BookNAround
Monday, June 9th: BoundbyWords
Tuesday, June 10th: red headed book child
Wednesday, June 11th: Olduvai Reads
Thursday, June 12th: Book-alicious Mama
Friday, June 13th: From the TBR Pile
Friday, June 13th: Turn the Page
Tuesday, June 17th: Svetlana's Reads and Views
Thursday, June 19th: The Infinite Shelf
Happy Reading and as always, thanks for stopping by!
red headed book child